What Is Breast Reduction?
Breast reduction is a surgical procedure intended to create a more proportionate breast shape and size, relative to the patient's body frame. To accomplish this goal, Dr. Bovill carefully and skillfully removes excess tissue from overly large breasts. The remaining tissue is then reshaped and tightened for a smaller and more manageable breast size. In addition to providing patients with breasts that better complement their unique figure, breast reduction can offer several benefits, including reduced neck and back pain, improved self-confidence, and better posture. Furthermore, this procedure often helps patients expand their wardrobe options and enables them to participate in athletic activities more comfortably.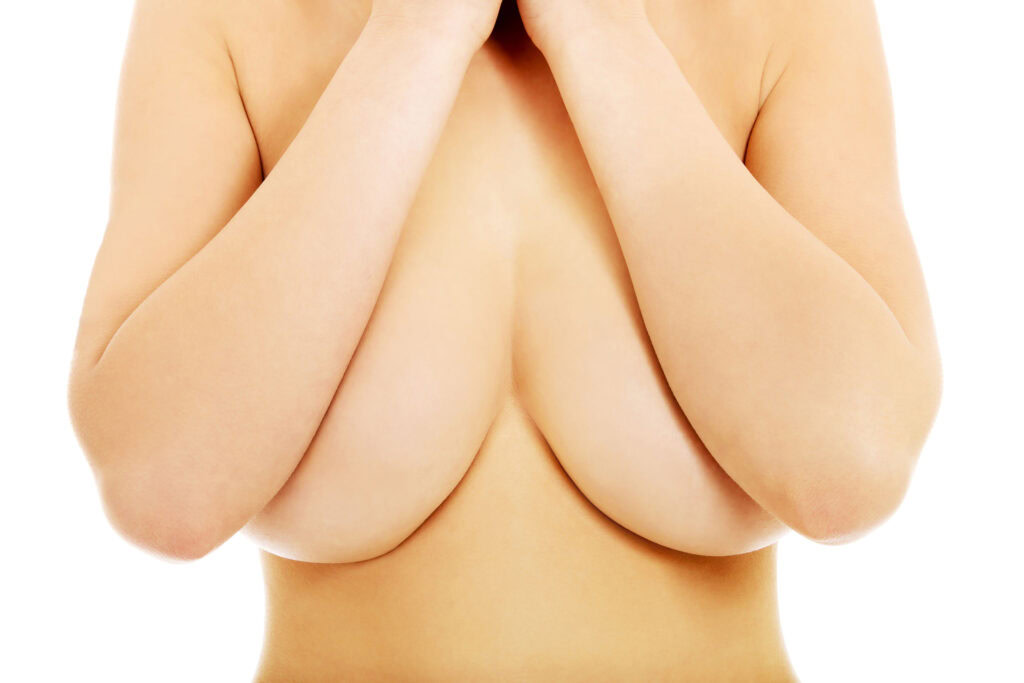 Learn More About Breast Reduction Procedures
1. Who Is a Candidate for Cosmetic Breast Reduction?
Individuals who experience neck, shoulder, and/or back pain as a result of disproportionately large breasts are typically considered good candidates for breast reduction surgery. Patients considering this procedure should also be in good overall health. Other indications that breast reduction may be right for you can include the following:
You have difficulty finding clothes that fit properly
Your bra straps dig into your shoulders painfully
You find that most bras do not offer enough support
You experience breast discomfort during certain physical activities
You have rashes and irritation around the breasts
Your breast size has affected your self-esteem
In British Columbians, breast reduction in symptomatic large breasts is an MSP-insured service, and therefore a GP referral is required. A reduction performed purely for lifestyle and aesthetic preference may however be undertaken privately. To find out if breast reduction is right for you, please schedule a consultation with Dr. Bovill. She can answer any questions you may have and conduct a thorough examination to determine if this procedure can best address your concerns. In some cases, Dr. Bovill may recommend a breast lift instead.
2. What Happens During Breast Reduction?
Dr. Bovill utilizes both the anchor and circumvertical incision techniques for breast reduction surgery. The anchor incision encircles the areola, travels vertically down the breast from the bottom of the areola to the breast crease, then follows along the inframammary fold. The resulting incision pattern resembles an anchor, and is also sometimes referred to as an "inverted T" incision. The circumvertical approach avoids the under breast scar but may reduce the dramatic shape change achievable. Dr. Bovill prefers the modern superomedial pedicle technique, which allows her to remove excess tissue along the bottom of the breast, while preserving blood supply to the nipple. This method helps maintain upper pole fullness, creating an ideal breast shape and projection with long-lasting results.
Ultimately, the best technique for your breast reduction procedure will depend on your unique case. In your initial consultation, Dr. Bovill can assess your situation and determine the approach that can yield the best possible results.
3. What Is Breast Reduction Recovery Like?
Following breast reduction surgery, patients typically require approximately two weeks of downtime, although more strenuous activities (such as going to the gym) may need to be avoided for five or six weeks. Mild soreness is typical during recovery, but any discomfort can usually be managed with medication. Swelling and/or bruising is also part of the healing process as well, but these symptoms should resolve within a few weeks with the final volume apparent at around six weeks (new bra shopping!). Over time, scars should fade and become less apparent. Dr. Bovill understands patient concerns around reduction and lift scarring and works closely with her patients to ensure optimal healing and timely scar management.
Each patient's recovery is unique, so it is important to carefully follow the personalized aftercare instructions provided by Dr. Bovill, ensuring proper healing during recovery. Postoperative follow-up appointments can also help Dr. Bovill monitor your progress and identify any potential complications, should they arise. Additionally, she can provide you with more specific guidelines as you gradually return to your daily activities.